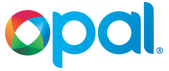 Speaking to a Transport offer from

Sydney Trains

, it appears there is a low usage of commuters using the Opal Card, that was launched recently.
This may be attributed to a few things: that there really wasn't a great publicity campaign on the day of the launch at Mount Druitt to promote commuters to use it - I had only witnessed one person handing information flyers. Also a lot of commuters use buses and are waiting for the launch of the expansion of the Opal Cards to buses later on this year. Lastly there are a lot of people that may not be even aware of it being available!
Again , it all goes back to adverting in the TV Media. and with the printing press - NSW Government should consider this!